"Don Harvey's photography workshop has truly been one of the highlights of my life. Spectacular scenery of alpine flowers, snow-melting streams and layers of mountain peaks provided us with an endless amount of subjects to choose from. I found Don to be a very profound photographer and teacher. His passion and enthusiasm for photography and nature helped me to appreciate the abundance of beauty in life through a very keen eye. Prior to this workshop I was fearful of the terms 'f-stops', 'shutter speed', and 'meter reading'. Now, thanks to Don's incredible way of teaching through class room discussion, combined with tremendous field trips, I am very proud of the photos I was able to produce. Blue River is a special 'peace' of paradise. I am very grateful to have experienced such beauty! -Thanks Don."
-Jenni Weston
* * * * * * * * * * * * * * * * * * * *
"For me, a person with no previous experience in photography, this workshop helped me to understand the very basics about photography: composition, depth of field and regulation of the amount of light needed for a picture

(exposure). The actual photo shoot, which spread out over the whole weekend, was the application of the theory; the surroundings at the Grizzly Hut contributed to the wonderful pictures I received as a result. I was amazed at how fantastic they turned out, and most of the credit I have to give to Don for his excellent explanations, tireless patience and great expertise. Combining outdoor activities, such as hiking, canoeing, horseback riding, swimming and, not to forget, the heli-ride, with photography, certainly gave me a very different perspective of looking at the environment. This rekindled a whole new appreciation for nature and even increased my already high level ofenthusiasm! The combination was the secret, mixed with a lot of fun, exceptional meals, and camaraderie--this is the best recipe, not just for a healthy vacation (workshop), but also for life. I am so thankful that I was able toexperience every part of it. Thank you Don and Teresa, as well as the Mike Wiegele Heli Resort for sharing 'paradise' with me."
-Wilma Fuchs
* * * * * * * * * * * * * * * * * * * *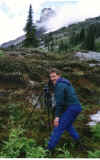 "The Photography Adventure Workshop provided the perfect balance between technical information and 'photographic vision'. Don Harvey's instruction on composition, lighting, and perspective gave me the opportunity to 'see' through the eyes of an accomplished professional photographer. After three days of heli-hiking, horseback riding and canoeing, with a camera in tow, I realize that photography enables me to see more and, in turn, enjoy more. I became aware of the tiny dew drops on a flower, the texture of a leaf, and the harmony between the sky and the earth. If I never picked up another camera, I'd come away from this experience enriched--but I have already 'seen' exciting ideas for my next roll of film! -Thanks Don." -Jim Govett